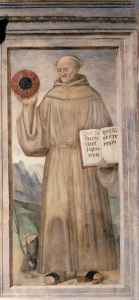 Bernardino was born on the 8th of September 1380 in Massa Marittima (Grosseto-Tuscany).
He was a descendent of the noble family Albizzeschi from Siena.
He studied at "trivium" school (grammar, logic and rethoric studies), then at Canon low University, but he didn't get his degree: instead of law he preferred to study theology and the reading of the Bible.
He joined the "Discipline Company of the Virgin Mary" at the hospital Scala in Siena.
In 1400 he and some of his friends took care of plague victims.
On 8 September 1402 he entered the minor brothers order: one year later he took vows and on 8 September 1404 he celebrated his first Mass.
During that period he studied the Bible and theology from which he learnt to preach.
So he started to preach a lot specially in the center and in the north of Italy (Liguria, Piemonte, Lombardy) and he tried to make peace among opposing families that were fighting each other.
He succeeded with his eloquence and for the current themes of his speeches.
At the same time he worked to reform his Order.
He continued to walk and preach in Italy but also in Europe until during a journey to Umbria, he stopped in L'Aquila where he died on 20th May 1444.
After no more than six years on 24th  May 1450 he was sanctified by Pope Nicolò V.